SAVE – Self Awareness, evaluation and motivation system ongoing experimentation
The SAVE System (Enhancing learning and integration and contrast ESL and NEET – 2014-1-IT01-KA202-002472) is a technology enhanced environment supporting and guiding a motivational path  aimed at overcross the weaknesses of youngers at a risk of being NEET or of early school leaving.
The motivational process supported by the SAVE system leads to the development of a digital portfolio. Areas and functions of the SAVE system reflect the steps of the selfawareness scale  by the following sections:
–    My competences
–    My personal development plan
–    My Internship
–    My SAVE portfolio
The portfolio yet is the output and the mirror of awareness and motivational rising.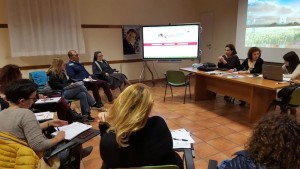 The trainers' competences are central for the implementation of this pathway, that is why trainers are invoved from the very begininning in the design and test of the SAVE suystem functions of this digital supporting system.
The CIOFS trainers, involved in the experimentation, joined in Rome form all regions of Italy,  the 02 of December 2015 to test the System and give feedback.
Next Spring 2016 the experimentation will inviolve directly also the young learners.